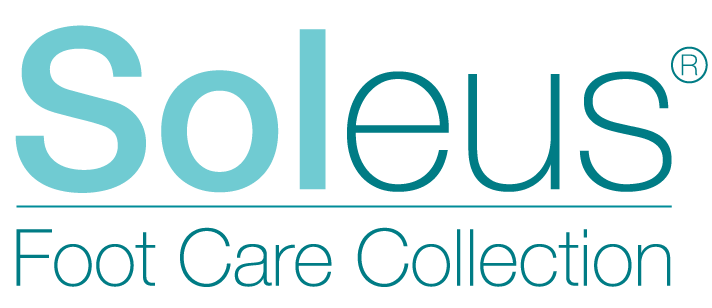 The Foot Care Collection Results
Love, love, love this product!
11/29/2017
My feet looked rough prior to using this product. Running takes a toll on my feet. After a couple of applications, my feet are smooth and looking gorgeous. No longer do I need to be embarrassed about showing my feet.
-Run4Life
Rating:
No More Pedicures!!!
12/20/2016
LOVE this product! I was always shy to leave the house without a fresh pedicure because my toenails were always ugly and my feet were always rough and chapped. I've been using this product line for a couple weeks now and there has been a really nice improvement. Smooth feet and healthy looking nails! I reccomend for sure!
Rating:
THANK YOU! THANK YOU! THANK YOU!
05/18/2016
My favorite thing in the world is a great pedicure which I feel I truly deserve after teaching kindergarten every day for the last 27 years! However for the last several months I have been trying to get rid of a nasty bout with athlete's foot and have had to give up my guilty pleasure. I can now say that after using Soleus for only two weeks, it is gone! My feet look and feel great! My nails are stronger and I am off to the pedi place!!! I plan on continuing to use this amazing product to keep my feet in top shape for flip flop season and beyond! THANK YOU! THANK YOU! THANK YOU!
Rating:
I HAVE RECOMMENDED THIS PRODUCT TO FAMILY AND FRIENDS
04/20/2016
As a coach of youth sports and being very active myself, I am always on my feet. This product has performed better than any other I've tried. I've been using the Soleus Foot Care Collection system for over a month and I can already notice the difference. My skin and nails are healthier looking, softer and my uncertainty about wearing flip flops is gone! I have recommended this product to family and friends and they are just as pleased.
Rating:
Wow. What a difference.
12/11/2017
I was really skeptical but this was highly recommended to me by my foot doctor. Wow. What a difference. My feet feel alive. It's so to use, has a mild scent, and doesn't dry my skin like other lotions or creams. It's working for me. Great job.
-Anonymous
Rating:
Life Changing
04/15/2016
I can't recall the last time I was ashamed of how my feet or toenails looked. But I can remember all the times I was so happy to show everyone how nice my feet looked compared to theirs. I have no problem with wearing shoes that expose my feet because honestly, I have absolutely nothing to hide like before. I am truly so grateful for this amazing product because frankly, it change my perspective on how you need to take good care of your feet. I am also so grateful for this amazing product because it allows me to give my feet the proper care they need.
Rating:
I love the Soleus Foot Care Collection!
03/29/2016
My feet were the most neglected part of my body but not anymore. Applying the Soleus products to my feet takes just a few minutes. It is quick and easy to apply. This Soleus Foot Care Collection (Smoothing Sponge, Nail Rejuvenation Elixir, Reducing /Softening Cream and Activator Cream (Tolnaftate 1% Cream) removes cracked, dry skin from my feet leaving them smooth & soft. I would recommend the Soleus Foot Care Collection to anyone.
Rating:
I USE THE PRODUCTS ON MY HANDS AND FEET
03/29/2016
I started noticing results fairly quickly with the Soleus Foot Care system. My nails became whiter, stronger and grew faster; something I never would have thought I'd ever see because I've used other products that promise to do just that, but to no avail. I've always been someone with weak, brittle nails, but not anymore! I use the products on my hands and feet. Even though it says it's a "Foot Care system", I figured it would do no harm to use on my hands, and boy, have I been pleased. The box says "nail and skin restorative system" and it has done just that for me!
Rating: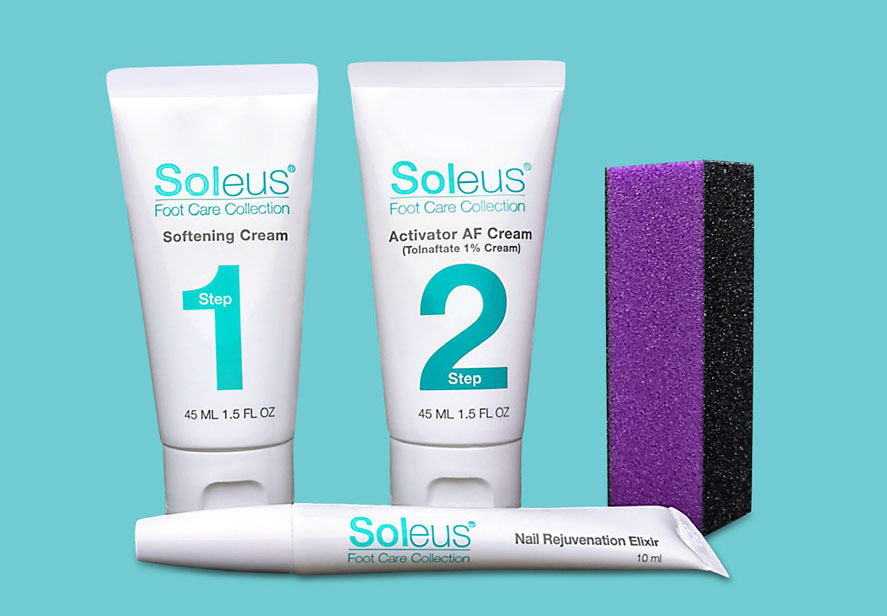 The Nail & Skin Restorative System
Using Soleus can:
Restore your skin & nails
Help dry & cracked skin
Heal foot fungus
Shop Now
2023 © Soleus Foot Care. All rights reserved